I love this time of year… well, I love all of the season changes really. When you've been in the thick of summer for just long enough that you are ready for the cooler weather. Even though just a few months ago you thought to yourself – I would be in heaven if it were warm like this ALL the time… Or in about six months when the winter coats we are about to fall in love with and buy are feeling old and uninspiring and we are craving sunlight and warmth. The change of the seasons is just one manifestation of the cycles in life. In nature. In ourselves.
Working in design I love the seasonal changes because all of the stores come out with their new lines. A new fall release means new colors, patterns, objects, fabrics… so much new and so much inspiration… it's like heaven for me every four months!
But I also find that because we live in a society that puts a lot of emphasis on consumption that it can be easy to get overwhelmed and to just buy things because they are new and not because they are really right for us.
I think that editing our environment – with purpose and intention – on a regular basis is kind of similar to the way a curator edits a gallery. We want the physical things in our space to be there because we want them there. Because they are serving us, enriching our lives. Not just because it's the 'in' color this season… or because it was on sale… and this can be a really challenging thing to master.
Sometimes when I find myself 'lusting' after something new I will wait, sometimes for quite a while, to make sure that I'm wanting it for the right reasons… or to just take some time and think about whether it's really me, does it really resonate with my personality and my style and does it really belongs in my house – before I actually pull the trigger and make the purchase. Sometimes I rush right in and then when I get whatever new thing home it doesn't seem as fabulous… and then it goes back.
I want to really love everything that surrounds me in my home. We all deserve that.
So today as I see all of these new fancy offerings online I'm sharing with you just a few of the new items for the season that I'm finding myself drawn too… and a few that I've been keeping my eye on for a while that I think may find a place in my own little haven very soon <3
I definitely need some amusement at my front door – it keeps the robbers away, for real. Uncommon Ground
I am absolutely in love with these dipped bowls – I just need them to offer hot pink :)         Wind and Willow Home
I am a bit surprised by how much I love this guy, but there's just something about it… and who am I to judge my great taste?! A little bit like leaves/plants.. a little abstract, I can see it with some colorful garden roses or daisies in a heart beat. West Elm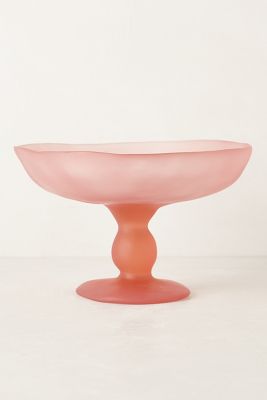 and this completely amazing frosted pink fruit (or whatever else you can think of to put in it) bowl… really this would look amazing just out on your counter as a pop of color. Anthropologie
most of all I love curling up in a cozy blanket during the fall and winter PLUS it's an easy and more affordable way to add some color or a new pattern/texture to your space without having to invest in a larger purchase like an entire new sofa or something crazy like that. These are from Dwell, (I basically love everything they offer) the hardest part for me is always picking the color…